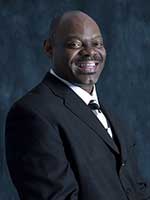 Rev Kitchens is a loving and devoted husband, a wonderful father and a grandfather.
He has been teaching and preaching the Gospel of Jesus Christ for over 30 years.
He accepted his calling in to the ministry in March 1996. In 2001 he was ordain as a Minister in the NMBC. He received his associate of Theology in 2003 , from the Christian Life school of Theology . He currently serves as the Christian Education Director at New Hope Missionary Baptist Church in Powder Springs, Georgia.
Rev. Kitchens has completely given his life for the building and establishing of God's kingdom.
He has a deep compassion to serve the Lord and a deep conviction for the truth.
He strives earnestly to please God and serve him in the beauty of his holiness.
He currently serve in many capacities at New Hope Missionary Baptist Church.
• Associate Minister
• Director of Children's Church
• Director of Vacation Bible School
• Sound room technician
Rev Kitchens favorite scripture is John 14:1-3
Let not your heart be troubled: ye believe in God, believe also in me in my
Father's house are many mansions, if it were not so, I would have told you.
I go to prepare a place for you, I will come again, and receive you unto myself
that where I am, there ye may be also.
When I read this scripture, I am reassured that when God does call my name and
the trumpet sounds there is a special place prepared for me and you.
What we are is God's gift to us. What we become is our gift to God.