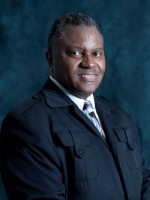 Reverend Dr. Ralph Steed has been a pastor, leader, speaker, counselor, and teacher at New Hope Missionary Baptist Church since 1987. He not only has opened the door for others to discover and serve Christ, but he is also an influential, motivating, and dynamic speaker. His passion is to reach as many un-churched individuals as possible from any age group or culture. Changing lives is his passion and prayer. Dr. Steed is also passionate about helping fathers and mothers raise children who will embrace Jesus Christ and become committed disciples of Christ.
Dr. Steed was born September 1, 1948 in Brooklyn, New York to Mrs. Henrietta Harrison Steed and the late Alvin Steed. He received his early education in the New York school systems. As a young man, he traveled to North Carolina, met the beautiful Argretta Jordan, and joined in holy matrimony in September 1980. During the same year, he transitioned to Georgia. Pastor Steed and First Lady Steed are the proud parents of three children, Serita, Nicole and Jeremy and grandparents to Joel and Desmond Koffie.
Pastor Steed practiced his vocation of Journeyman Electrician at General Motors and retired in 2006.
Dr. Steed studied at Oral Roberts University, Luther Rice Seminary and in September 2007, he earned a Doctorial degree in Theology from the Christian Life School of Theology at New Hope. As Vice Moderator of the Friendship Association, he demonstrated his dedication to serving the ministry and the community.
Reverend Dr. Ralph Steed's love for God is unstoppable. He is definitely a man sent and called for such a time as this. As you get to know the man behind the power, you will find that he is fun, loves to laugh, relaxing, and just enjoys life to the fullest.