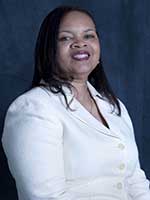 Was born in Henderson, North Carolina to Libbie and the late William Jordan.
Educated in the Warren County School system.
Worked as a paraprofessional educator for 6 years in the same school system after graduating from Norlina High School.
Married Reverend Dr., Ralph Steed in 1980
Moved to Georgia 1980 where she became a member of Pleasant Grove Baptist Church, Marietta, Georgia.
Was a stay at home mom for 20 years to raise their three children Sarita , Nicole, and Jeremy because she felt it was her responsibility to raise her children not strangers in the Day Care setting. She now finds that ironic because she has spent the last 17 years working as a Certified Pre-Kindergarten Teacher for The Goddard School.
Argretta is also the proud mother of one son-in-law Abby and very proud grandmother of three grandchildren, Joel, Desmond and Angelina.
In 1986 Argretta became a member of New Hope Missionary Baptist Church of Powder Springs where she has faithfully worked printing the church bulletins and any special events program they have for 30 years.
She is very passionate about her church and think of her church member as family and friends. She thinks New Hope Missionary Baptist Church show love for its members and visitors is what draws people to want to attend. We actually practice "love thy neighbor as you love yourself" and "do unto others as you would have them do unto you"
Favorite Quote:
I expect to pass through this world but once. Any good thing, therefore that I can do or any kindness I can show any fellow human being let me do it now. Let me not defer nor neglect it, for I shall not pass this way again.